---
RVA Licensed Massage Therapists:
---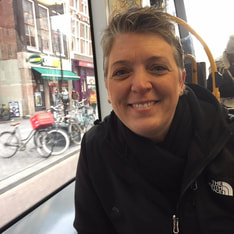 Stephanie Quinby, BCTMB/E-RYT 200/CMT/YACEP
Stephanie Quinby, owner of RVA Massage and Wellness, LLC, is Board Certified in Therapeutic Massage and Bodywork (BCTMB) and is a Licensed Massage Therapist (LMT) through the Virginia Board of Nursing. She has twice been appointed by different Governors to serve on the Advisory Board on Massage Therapy for the State of Virginia and has served two terms as Vice-Chairperson. She maintains her Professional Membership with the American Massage Therapy Association.
Stephanie is an Experienced Registered Yoga Teacher (E-RYT 200 - with over 1,000 teaching hours) certified with Yoga Alliance and a registered YACEP (Yoga Alliance Continuing Education Provider). She received her certification in Thai Massage and Thai Massage Hip Therapy through the Thai Healing Massage Academy. She also completed course work through John Barnes' Myofacial Release program.
With a broad skill set and attention to detail, Stephanie uses a variety of techniques to help reduce stress, promote pain reduction and injury prevention. She practices with a holistic and client-focused approach placing value on open communication between therapist and client. She is dependable, professional and offers the highest quality services. She has been practicing Massage and Bodywork since 2008 and teaching yoga since 2007. Her specialties include Therapeutic Massage, Thai Massage, Deep Tissue, Sports Massage, and kayaking on the James River.
---
Testimonials:
"This was the best massage experience I've ever had in Richmond and one of the best massages I've ever received. I love the vibe at RVA M/W and found Stephanie to be knowledgeable, kind, and truly gifted at what she does. Thanks so much!"
~M.H.
"Stephanie is absolutely the best! I had constant hip and lower back pain for years before starting sessions with her and I believe she fixed me. She is really good at working out deep knots! Every time I leave my biweekly massages I feel like my muscles have been elongated and relaxed at the same time and I feel calm but energized. I can tell that she loves her work and genuinely cares for her clients and our health and can't recommend her highly enough. Thank you so much for taking such good care of me Stephanie!"
~V.R.
I am loathe to tell others about Stephanie's skill as it may make it more difficult for me to schedule an appointment, but nonetheless, she is at the very pinnacle of massage therapists that I have experienced (and that's quite a few). She targeted my trouble spot (IT band) and by the time I left, I was virtually pain-free. Excellent technique, pressure and very knowledgeable, I was so impressed that I have purchased a package for the new year!
~W.W.
"As a former NCAA athlete and retired Marine, I have over-used many of my joints. Massage therapy has been a part of my routine for health management for quite some time as a consequence and Stephanie is absolutely the best at her profession I have met, anywhere (and that includes Japan and China!). I particularly appreciate the attention she pays to stretching and toning the supporting musculature around my knees. I absolutely recommend her services- she is the best!" ~J.M.
"Stephanie Quinby is just amazing! Last year when I had a rotator cuff injury and was healing very slowly with physical therapy, her massage treatments speeded up recovery greatly. With her help, I was able to gain mobility in that joint, and much of the pain was eased. Now that my injury had healed, regular massage helps alleviate soreness caused by stress and too many hours at the computer. Stephanie has a knack for finding the areas in which I hold tension and working that tension out. I would highly recommend Stephanie to anyone considering massage. She is a skilled and caring health care professional. " ~K.D.
"I have been receiving massages from Stephanie for the past 2 years for low back pain and related issues. She is an intuitive and compassionate massage therapist who individualizes each therapeutic massage as to what my body needs. Her knowledge of the anatomy and physiology of the human body paired with her organic ability to intuitively sense the underlying status of the musculature makes each massage she gives a refuge from pain and physical suffering. I would highly recommend Stephanie to anyone wanting to heal their body from injury or who just want to find relief from the effects of stress. You're in great hands!" ~T.B. – Happy client
---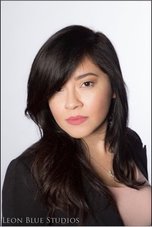 Violet is certified in myofascial release, reflexology, deep tissue as well as prenatal. She enjoys watching her clients improve through each session. Setting personal goals for each client, Violet can help with scar tissue breakdown to gaining flexibility. She also taught massage therapy in Texas, with this knowledge she hopes to teach some clients about their bodies a little more. Building a rapport with each client is very important to her. She confides on that trust to communicate well with each client to help with their goals in health. Violet loves to learn new modalities and with each one she picks up she loves to excel at her craft. She is excited to be a part of this new journey and happy to be working with each client. Her healing touch will help you relax and forget about any worries you may have.





---
---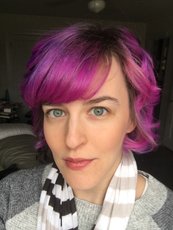 Taylor has been practicing massage therapy since 2013 and is proficient in Swedish, Deep Tissue, Myofascial Release, and Prenatal massage techniques. She uses everything she has learned for a integrative approach to each session, with a focus on body awareness and exploring her own style of image-based energy work. She sees massage as a natural extension of her B.F.A. in Sculpture at Virginia Commonwealth University, and her massage education from the University of Richmond has enriched her life. Taylor is constantly inspired by her mother, a fine artist and former massage therapist in Richmond, and her sister, a graphic designer and powerfully independent person.
---
---
Anna Marie Heaton, CMT
Welcome, Baby Aksel!!

Anna Marie graduated from Brian Utting School of Massage in Seattle, WA in 2007 and opened the doors to her dream job in early 2008. She is certified through the Virginia Board of Nursing and a member of Associated Bodywork and Massage Professionals. She offers intuitive, client-centered, therapeutic massage.

Anna Marie's modalities include Swedish, Deep Tissue, Neuromuscular Technique, Sports, rehabilitative, therapeutic massage, and she is a student studying under Damion Bond in the Shivagokomarpaj Old Medicine Hospital lineage of Thai Folk Medicine.



A note from Anna Marie:
My clients range from young to mature, active to less active, and folks of all shapes and abilities. No matter the reason for coming to my massage table, I will always listen to your needs.I believe in the body's innate ability to heal itself--so it's my job to help ease stress, unkink tight muscles, and unwind your nerves to help make that healing possible. Let's work together to help you be as comfortable, present, and joyful in your body as possible!

While I'm a massage therapist by trade, I'm also an RVA transplant by way of Seattle, a mother to two little boys, a yoga enthusiast, and an alignment nerd.
______________________________________________________________________________________________________________________________
Thai Bodywork is an hour and a half long healing session during which the practitioner uses palms, elbows, and feet to compress muscles, stimulate acupressure points, and gently stretch the body allowing it to relax, open, and literally decompress. The Thai method traces and clears ten energy lines which cover all muscle groups and organs, reaching every body system. Called the "moving mediation", this intricate, fluid, and intuitive cleansing series promotes deep relaxation within the body and stillness within the mind while alleviating all types of ailments and injuries, leaving you feeling calm and centered.


---
Testimonials:
"I had a wonderful experience getting a prenatal massage from Anna Marie Heaton. I was 38 weeks pregnant at the time and my body felt amazing for a whole week after the massage. Anna Marie was really thorough in talking to me to understand the aches and pains I was having and she was really meticulous with everything she did. She clearly has lots of experience with prenatal massage, and she's also a mom herself and understood what I was going through. I'll definitely be back!"


"I had a great massage with Anna Marie. She spent a lot of time understanding what issues I needed help resolving, and then not only addressed them in the massage, but gave me tips on stretches and things I can do on my own to help. She took creative approaches and really made me feel at ease, even though I hadn't had a massage in years. I will definitely be returning, and I recommend her highly!"
~ T.V.
"I LOVE Anna Marie! ! I was so sad when she moved from Seattle, because she has a real sensitivity to her clients' needs, and my body misses her very much. I am a yoga teacher, so was able to describe what I thought to be my issues, but Anna always gently but directly went to the source of the concern. Anna has an intuitive sense, and combined with her experience, that sense always guided her as she brought my body back into balance. She is very strong, and is a master at tempering that strength to suit each area of the body. Anna is an extraordinary masseuse and if you are lucky enough to get a massage from her, you will also be a life-long fan!" --S.C.

"Shortly before a week-long surf trip, I strained several muscles in my shoulder, back, and side. I thought I would have to cancel the trip, or sit on the shore the whole time. Then I met Anna, and she fixed it all in one massage session. She listened carefully to my description of what ailed me, found her way around and into the problem areas with care, precision, and intuition, and virtually banished any strain from those muscles. My anxiety about the trip dissipated as the relaxation soaked in. I went on the trip, took good care of myself, and surfed nearly every day. I have since seen Anna Marie numerous times and she has always show the same ability to get to the root of the problem and fix what was ailing me. Thank you, Anna!" --J.W.

"Anna Marie is an amazing massage therapist. She is so thoughtful and attentive so after each massage I always feel that I got exactly what I wanted and what my body needed." --E. F.
---
​


Jennifer is a Licensed Massage Therapist (LMT) through the Virginia Board of Nursing, and holds a professional membership with the American Massage Therapy Association. Her specialties include: Swedish, deep tissue, trigger point and therapeutic massage. She is very passionate about addressing each client's individual needs through customized, client - oriented sessions. She prides herself in seeing client's actively improving anywhere from stress reduction to chronic pain management. Her goal is to positively impact others through her passion for massage and wellness the way it has benefited her own life.
---
---
Feel free to contact the therapist if you are unable to find an appointment time that fits your schedule.
Click on the therapist's name to send them an e-mail.
(Remember to include some dates and times that work with your schedule.)
---